Mission
Our mission is to provide a safe, nurturing and sacred space where all are welcome
What is a Sound Bath?
A Lotus Sound Bath is an instrumental experience utilizing quartz crystal singing bowls, gongs and cymbals in order to rebalance both mind and body. Guests will enjoy a unique meditative concert played by Lotus owner Douglas Cardwell as he leads you on a journey of self-regeneration using a variety of high vibrational instruments and melodies designed to reset and restore the nervous system and expand your heart. Take the opportunity to improve focus and concentration while enjoying a guided meditative state created by the soothing technique of a musical professional. A level of positive energy may be created which will promote relaxation, inner peace and mental clarity. As well as mental benefits, the body may also improve with higher energy, fewer headaches and better sleep as the sound waves release and heal you. Let anxiety slip away to be replaced by a sense of serenity. 
How to Prepare for a Sound Bath
♦ Wear comfortable and flexible clothing; warmer clothing and/or light blanket if desired.
♦ For a private session, a pillow and mat will be provided but you may bring your own. For group sessions, please bring your own mat and pillow.
♦ Keeping your body hydrated and well-nourished by eating only lightly before your session will enhance the experience.
♦ Arrive 5-10 minutes prior to your sound bath. This will aid you in calming your mind. For sessions at the Lotus Studio, do not arrive earlier than 10 minutes before your session.
♦ For sessions at gust locations arrive 15-20 minutes prior to your sound bath. This will aid you in calming your mind. Doors will open 20 minutes prior to the start time and late entry is not permitted.
♦ Perfumes and colognes are discouraged due to scent allergies and sensitivities.
♦ Mindfulness is the first step in preparing for a sound bath. Being aware of your state of mind before and clearing your mind during a sound bath may enhance the benefits of sound healing.
♦ Set your intentions for the experience and be positive.
♦ If you have epilepsy or other neurological conditions that might make exposure to prolonged and potentially loud vibrations dangerous, consult your physician prior to attending a sound bath.
♦ CLICK IMAGE BELOW FOR LOTUS RECORDINGS! 🎶

Headphones recommended  🎧
Share with friends!
Lotus Sound Baths
Lotus Sound Bath offers expertly crafted vibrational experiences designed to attune the body, clear the mind and lift the spirit. Whether you seek to deepen your meditation practice, grow your power of positive thinking, harness your energy by rebalancing, or simply achieve greater relaxation, we have a unique sound bath option that can meet your needs.
Lotus Sound Baths are designed to calm and relax you with long deep colors of sound and entrancing phrases. No need to have thoughts of, "Am I doing this right?" Just lie back on your mat and enjoy the guided tones to find the calm within you.
An intention to encourage one away from anxious thoughts through the soothing vibrations of gongs. With the mind diving deeply into these calming harmonic vibrations, the body is able to connect to this energy and sink into a meditative state of consciousness. Using a variety of high vibrational instruments, this therapeutic sound is designed to take you on a transitional journey to reset and restore the nervous system and expand your mind, body, and spirit.
Many people are feeling out of balance these days. With openness it is possible to delve a little deeper into one's ability to focus and allow. The sound bath is focused on guiding one to release this blocked energy. Breathing deeply with intention is one of the best ways to restore and have awareness with each inhale and exhale. Breathing methodology and our 432 Hz perfect pitch tuned set of seven frosted quartz crystal singing bowls are orchestrated to help you find center once again.
♦ CLICK IMAGE BELOW FOR LOTUS RECORDINGS! 🎶

Headphones recommended  🎧
Share with friends!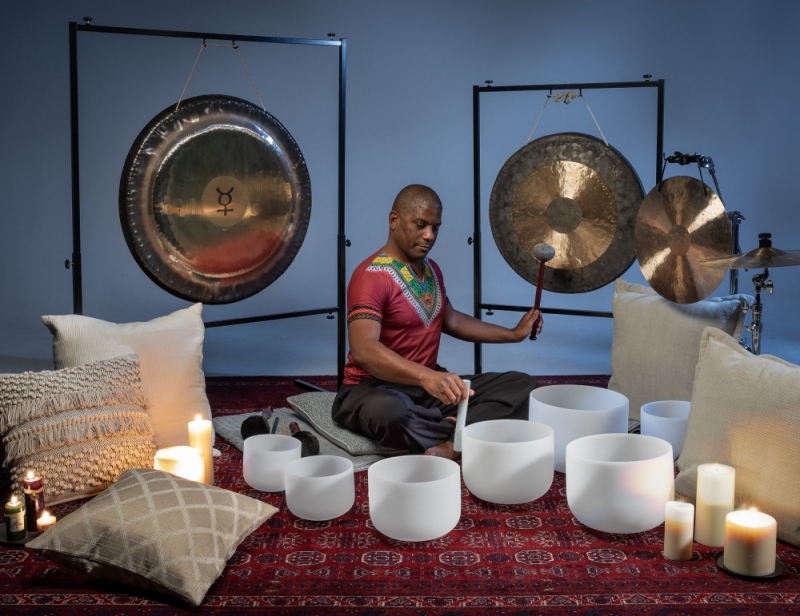 Douglas Cardwell
Master Percussionist and former Principal Timpanist for the New Mexico Philharmonic Douglas Cardwell brings his expertise in soothing sounds and contemplative tones to the realm of meditation. With certifications from Ascending Sounds, The Medicine of Sound Wellness Center in British Columbia + 
Duality energy and healing training with Jeffery Allen, peak performance training with Noa Kageyama plus over 25 years' experience in private instruction, professional sound artist Douglas brings a wealth of knowledge to the realm of sound meditation and sound healing. With his passion for music and personal wellbeing, he is able to share with others the path to enlightenment and renewed positive energy.
test
Sound Bath Instruments
The intricate mix of richly vibrational crystal singing bowls, soothing gongs and resonating cymbals will lead you through your journey of relaxation, mediation and healing.  All of these instruments have been chosen for their purity and quality of sound. During your sound bath session, you may experience:
♦ 432 Hz Perfect Pitch Chakra Tuned Set of 7 Frosted Quartz Singing Bowls 
♦ Gongs
♦ Cymbals 
♦ Ocean Drums
♦ Shakers
♦ Rain Sticks